Uploaded to YouTube at 6 pm Eastern time October 1, 2011
------------------------------------------------------------------------------------------------------------------------------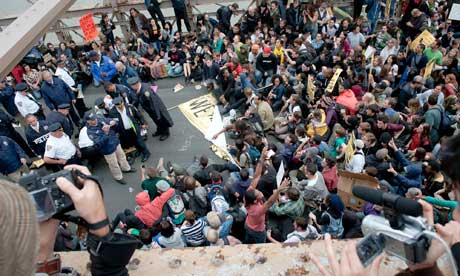 Scores of arrests were made on the Brooklyn Bridge on Saturday evening during a march by anti-Wall Street protesters who have been occupying a downtown Manhattan square for two weeks.
The group, called
Occupy Wall Street
, has been protesting against the finance industry and other perceived social ills by camping out in Zuccotti park in
New York
.
During the afternoon a long line of protesters numbering several thousand snaked through the streets towards the landmark bridge across the East River with the aim of ending at a Brooklyn park...
.more